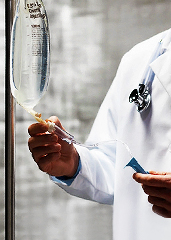 Some people are in the business of making your life harder.
Lawyers. Parking attendants. Nickelback.
Others are in the business of making your life easier.
Lawyers. Bartenders. Paramedics who cure hangovers after St. Patrick's Day.
As for the latter, there's
Hydration Station
, a comfortable little office environment where paramedics just happen to give you quick fixes of lifesaving fluids via IV, officially open as of today in Buckhead.
Doctors curing hangovers via IV-administered fluids. That's a thing that's been happening a lot lately. But this one kind of feels like an office crossed with your living room crossed with a sports bar.
So there's that.
And sure, they'll do the whole house call thing. But you should go to them instead. Like the next time you've spent an evening drinking green beer and then realize you still have to participate in life the next day. This will help you do that. Also, it'll help you into a heated leather massage chair in front of a giant flat-screen streaming ESPN.
They'll set you up in one of six private rooms, hand you a Lenovo IdeaPad tablet (they just thought you should have one of those) and start injecting healthiness into you. A liter of water here. A B12 shot and 30 minutes of oxygen there.
Or if you're there for non-morning-after-related purposes, that's fine, too. They've got packages for athletes and marathoners.
For... future reference.