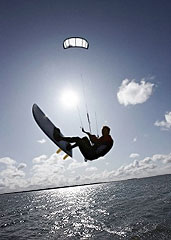 That was pretty brutal last weekend, the whole Nemo thing.
The local weatherman was so distracted, he kept forgetting to tell you whether you should go kitesurfing.
Never again, Dallas Raines. Never again...
Introducing
Kitesurf Pro
, a handy new iPhone app that'll help you find the perfect time and place to kitesurf, available now.
Maybe you're grocery shopping. Maybe you're east of La Brea. Maybe you're in a windowless conference room doing windowless-conference-room things. Sometimes you just need to know whether you should be kitesurfing instead of doing those things.
So you download this app. Put in your weight. (In kilograms. Sorry.) Put in your kite size. Yes, kite size matters. And it'll tell you whether conditions are currently ideal in Venice or Malibu or any of your preferred spots. (Yes, you have to put those in, too. Apps are so demanding.)
Or... just put in your single favorite shore. The one you're loyal to above all others. And anytime the kitesurfing conditions are prime there, you'll get a notification.
Then you just have to find a plane to Maui.