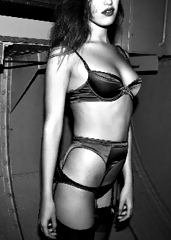 We have no idea whether or not you observe Valentine's Day.
Doesn't matter.
What matters is whether or not you observe lingerie.
And since we have it on good authority that you do...
Consider this new batch of it, dubbed
Yasmine Eslami
. It's everything you'd expect from a Parisian underthings cooperative helmed by a former Vivienne Westwood designer with a particular affinity for filling websites with incredibly not-unattractive models... and it's online now.
So. That one day. It's coming up, you know. And so is that one night. And this... well, this is for that.
Think of it as a perfectly timed gesture of affection. A sacrificial offering to Cupid and his band of merry/creepy babies. A little something to make that special someone feel...
Yeah, it's pretty much a bunch of sexy, lacy stuff.
But this designer. This Yasmine. Turns out, she really knows her way around a transparent teddy. She's got nine different collections in there. Some are a bit elegant. Some are a bit... different than elegant. All are just sitting there waiting for your altruistic deployment upon an unsuspecting muse.
Altruism. Selfishness. Same thing.