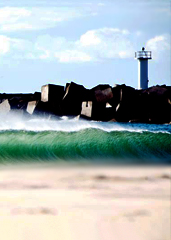 Imagine a world without laughter.
Pretty upsetting, right...
Now imagine a world without bread pudding.
Not
as
upsetting, but still.
Finally, imagine a world without websites filled with beautiful surf art by professional photographers from around the world.
Well... you'd probably live.
But you'd be living without
The
Ride Gallery
—a new web-based art bazaar brimming with limited-edition prints inspired by street art and surf culture—and it's probably best if you didn't. It's online now.
Attractive things to hang on your wall. That's what we're talking about here. Just an aesthetically magnificent mélange of water-centric snapshots taken by 10 international photographers with a knack for turning your living room into a conversation piece.
A swell in Anguilla here. A thunderstorm in Montauk Point there. You can hang those up and look at them whenever you want now. It'll be relaxing. There's an entire section dedicated to Spanish artist Aleix Abellanet's
No Cutter
series. It's essentially a collection of pop-art-y 3D cardboard sculptures. Toss one of those behind your home bar and watch the sparks fly at your next cocktail party.
Or just watch someone talk about it, whichever happens first.