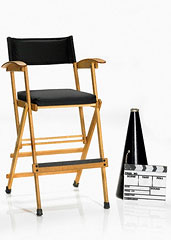 Sundance. What a whirlwind of swag, impractical fashion choices and high-altitude partying with CW recurrers.
Also, you kept hearing rumors about movies getting screened and sold. Apparently that's a thing they do at the festival. You should really get on that for next year.
Roll the opening credits for
Reelhouse
, a new website that'll host your movie, sell your posters and send you a check with your profits—oh, and they're partnered with Sundance—now in beta mode online.
Your little film: it's a masterpiece, obviously. That scene with Jennifer Lawrence, Steve Buscemi and a muskrat all fighting over a pickle that symbolizes personal happiness... transcendent. Truly. Now all you have to do is find a distributor, 2,000 screens and a marketing budget. No big deal.
Okay, or: throw it on this website. You can adjust everything, even the color scheme and background imagery on your webpage, to make the vibe suit your movie. (Orange isn't Jennifer's color.) You can put it behind a paywall. You can collect funds, Kickstarter-style. You can sell autographed posters through the web store. And yes, their partnership with the Sundance Institute and Film Festival means your odds of getting it seen by the right kind of people are, oh, 30,000% better than YouTube.
The right kind of people, to be clear, have lots of money.