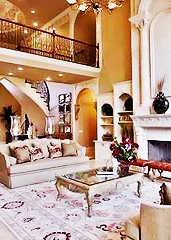 You should throw a party this Sunday.
No reason. Just because.
And if you feel like watching a football game, well, there just so happens to be one on.
And if you feel like doing it in a three-story Italian villa with waterfalls and a bunch of ballrooms, well, you just so happen to know where to find that now.
It's like fate...
Meet
Eventup
, a ginormous marketplace full of rentable warehouses, museums and everything else imaginable for your party-throwing consideration, online now.
This is just like having your own personal event planner. The 24/7 kind. The kind that shows you exactly which venues are available for rent on any given day. The kind you're going to use this Sunday to be better at Super Bowling than everyone else.
Let's see, there's a fully operational brewery in West Midtown (+1 for not having to bring beer). A few nightclubs like Opera or Havana that are ripe for a takeover (+1 for the latter's proximity to an on-site cigar humidor). Oh, and the Atlanta Acropolis—that massive gated home with a wine room, pool and theater. You may know it from being Bill Murray's home in
Zombieland
(+1 for... that.)
Just log on to the site to see what's available. And when you find somewhere that's the perfect backdrop for your soiree-tossing needs, book it right then and there.
Maybe invite Matt Ryan.