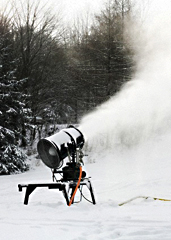 Quite the fake winter we're having here.
Let's see, 70 degrees this weekend. People walking around just sweaterless. And not a snowflake in sight.
On one hand, that's amazing.
On the other... it makes it really difficult to have a snow day bash in your front yard.
Enter the
Snow Kings
, a few local guys who would be more than happy to come over to your place with some industrial snowmaking equipment and turn it into a winter wonderland, taking reservations now.
Innocent enough. Until you harness its full power, that is. Speaking of...
The Snow Bunny Olympics Are Long Overdue...

Make a day out of it. Invite some really fit Canadians over and break out the hot scotcholate. Then, let the games begin. Pajama curling. Most flexible snow angel. Skinny polar bear dipping. This could work. This could really work.
And Because Snow Days Mean You Can't Go to Work...
Create one. Really get in the spirit here. Make a fire pit. Start jumping on beds. It'll be the best homemade snow day ever. Just make sure you go full snowball-fight-from-
Elf
on the mailman. They love that.
Then, You're Making a Snowyou...

You've always wanted a snowman version of yourself. It's like building a disintegrating monument in your own honor. Get creative—Junior Mints for your eyes. Nice flowing weave for your hair. Actually, this is getting creepy.
Maybe just make Frosty.