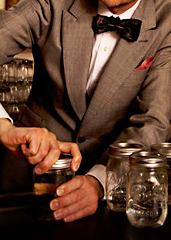 We need to talk. It's about your next cocktail.
And how you're going to be wearing it...
Break out your best knot for
Tasty Ties
, a dapper new SoMa-based line of bow ties inspired by local cocktails, online now.
Right. Cocktail-inspired bow ties. The guy and the girl behind this got together with 10 different bars, chose their most iconic drinks, then sat, drank and let the inspiration flow. (Funny how imbibing works on inspiration.)
The result: snappy pieces of neckwear, suitable for your next holiday, party or holiday party. We're talking oxblood velvet numbers inspired by the dark cherry notes of Bourbon & Branch's Manhattan. A double-sided, red wool and cream suede bow tie based on Serpentine's Blood and Sand. An Irish-plaid tie reflecting the Buena Vista's iconic Irish coffee. (Add whiskey to taste.)
And just like a proper Old Fashioned requires a proper tumbler, your tie will arrive pre-tied and encased in a cigar box made of reclaimed walnut out of Atlanta. Also, with a cocktail napkin bearing the bar's exact recipe.
By the way: if your favorite drink isn't represented, they're prepared to design a custom tie just for you.
Maybe don't hold out for Long Island Iced Tea.