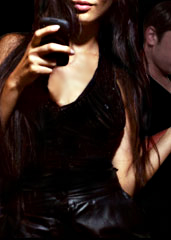 You go to a bar. See somebody you've got to meet.
You don't hesitate. You walk up confidently. Say something wry. And then immediately realize you... kind of hate this person. This person who won't stop talking about cats. And
Cats
. And Carly Rae Jepsen. Awkward.
Maybe it's better to let technology handle these things from here on out...
Introducing
Tinder
, a new LA-based app that uses your Facebook profile to let you know about the people nearby it thinks you should meet—and only the people it thinks you should meet—available now on iPhone.
You might've heard of those other matchmaking apps that use GPS to hook you up based on proximity. And... no judgments. But sometimes there're a couple other qualities you're looking for. Just a couple. This app in particular uses a bunch of complicated algorithms (also: Facebook) to figure out people in the area you might actually have something in common with. Like, say, an affinity for this area.
So next time you're, well, somewhere (at a screening, standing in line to return your aunt's holiday gift) and you've got time to kill, pull this thing up. If there's a potential match nearby, you'll preview their profile and vote yay or nay. Then, if the feeling is mutual, you'll both receive a notification.
We think you can take it from here.