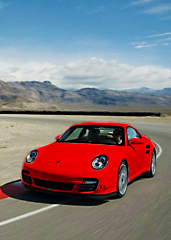 You'd never want to own a Lamborghini.
The trunk space: terrible. The gas mileage: horrible. The option to get it with a TrueCoat sealant: not even available.
But if someone told you they had a Lamborghini you could borrow and burn the rubber off of for a few hours...
that
you might be interested in.
Enter the
Exotic Driving Experience
, a rare opportunity for you to irresponsibly drop the hammer on a few supercars, taking reservations now for next February and November at the Atlanta Motor Speedway.
Think of this like the world's greatest test-drive/
Days of Thunder
reenactment. Just you, an open racetrack, a flame-retardant helmet and
six of the most sought-after speed demons
on the road. Like the Porsche 997 (it goes from zero to 100 mph in 9.6 seconds). Or the Lamborghini Gallardo Superleggera (it's got FM/AM radio).
Book now, and after the new year, head to the speedway. You'll begin with a little basic training. You'll be schooled in the art of high-speed turning. You'll... adjust your side-view mirrors. And when you're ready, you'll be let loose for six breakneck laps on the track.
Of course, if you have any questions (or, you know, need directions) during your drive, just look to your right. There'll be a NASCAR pro riding shotgun with you.
Good, someone to hold your coffee.