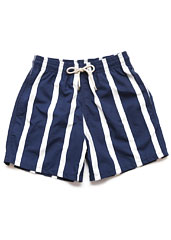 Winter is so brutal. All that bluster, all those layers and the biting chill of the...
Wait. We're in Southern California. Restart.
Man, some weather we've been having. You could sure use some new swim trunks.
Like these: introducing
Solid & Striped
—just some dapper new swim trunks that channel leisurely-afternoons-on-the-Côte-d'Azur (even if they merely facilitate leisurely-afternoons-in-friend's-hot-tub), available now around town.
Stop us if you've heard this one before. Guy comes to Hollywood. Dreams of making it big. By which we mean he dreams of making swimsuits. So he does that. And we like them.
They're made with Italian polyamide (looks good, dries fast, hard to pronounce), and there are a bunch of options to choose from. But we'll boil it down. You can get a solid pair. Or you can get a striped pair. (If the designer wakes up tomorrow feeling polka dots, he's in real trouble.)
And as for the short, slim cut—they're meant to look all lackadaisical and European. Like you just happen to be sitting around in the sun sipping a Negroni on a Wednesday afternoon... without giving the matter much thought... and maybe you're going to throw on some boat shoes and grab a bite soon. And yes, you just happen to look like this.
Your abs are totally not clenched.