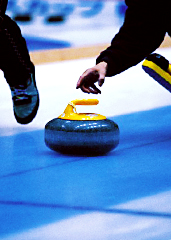 Curling.
Easily one of your top five favorite Olympic events that involve the use of a broom.
Deep down, you've always sort of felt like it was something you could go pro in.
Okay, maybe not, but you've always sort of felt like it would be something fun to do on a Friday night...
Introducing the
Atlanta Curling Curb
, the first and only curling club within a 50-mile radius of the city, now accepting new recruits at the Marietta Ice Center.
So, curling. You remember curling. It's that thing that's really big in really cold places. Kind of like shuffleboard meets chess meets house chores... on ice. Well, there's a collection of diehards in Marietta who've set up a club at the local rink there. They've got equipment to lend, ice time to burn and introductory classes that are open for registration now. Which gives you roughly two years to get ready for Sochi.
What you'll want to do is assemble a team (or bring a date, because this could certainly qualify as one) and sign up for some Curling 101. Learn how to use the broom. Learn how to throw the 40-pound stone. Learn... how to run around on a sheet of ice without breaking your neck.
And then, come back in January. Because that's when they're planning on starting their league.
We hear ESPN 8 has the television rights.