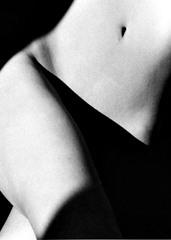 Fact: everybody was born naked.
More interesting fact: some people decided to stay that way.
And you'll find most of them in
Nude
, a giant new hardcover overflowing with artsy photographs of models wearing a bunch of clothes (nah... they're definitely quite nude), available now.
What you have here is a photographic journey through the ever-changing landscape of a modernist utopian society reminiscent of... actually, let's just call a spade a spade, shall we.
It's 336 pages of women not wearing clothes.
And every last shot comes courtesy of Ralph Gibson. Big fan of the female form, that guy. There's also the matter of his Guggenheim fellowship and countless international photography awards throughout the last several decades. Add it all up and you're dealing with pure naked-y gold here.
You may be wondering why you would ever need such an exhaustive resource on the topic of au-naturel-apple-eating-while-gazing-longingly-through-floor-to-ceiling-windows. To which we say: you're definitely not wondering that. So stop pretending to wonder that.
Instead, just pick up a copy, take a casual look-see and try to appreciate the art of it all.
We know you can.