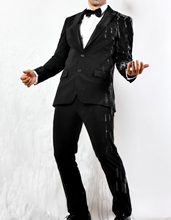 ...
And with the consumption of the last piece of turkey you wanted to see for another 371 days, holiday party season was upon you...

And it was good.
And you wore a champagne-resistant tuxedo, and raged long into the winter nights, toasting with a reckless abandon never before seen in the annals of brumal festivity
...
That was an exclusive excerpt from the story of your next month, courtesy of this thing...
It's the
Proof NY Tuxedo
, a completely necessary piece of holiday party handsomeness that no liquid can touch, available now from Proof NY.
When in the course of human events it becomes necessary to pop some champagne and spray it everywhere (say, New Year's Eve, a Super Bowl victory or... a Tuesday), you'll want this tuxedo. It's a slightly stretchy, slim-cut work of satin-lapelled, technical-fabric art that any kind of moisture just rolls right off of.
It comes in a black two-button with a subtle grosgrain ribbon on the pants, but with a standard jacket/pant-size situation instead of custom fitting (think J.Crew's Ludlow suits). You've got the option of peak lapel and, soon, a shawl collar.
But you won't
find
this anywhere. You'll
request it here
. Then you'll be summoned to an undisclosed location to try it on and make sure all is well.
And all is usually well when you're trying on champagne-resistant tuxes.
Note:
Proof NY Tuxedo, available now by request <a href="mailto:info@proofny.com">here</a> from <a href= "http://proofny.com/" target="_blank">Proof NY</a>