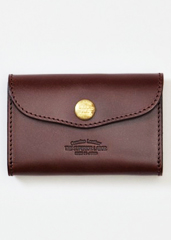 Later on this month, it's going to be Black Friday.
But first allow us to introduce you to its lesser-known counterpart, Burnt Sienna Friday.
Like, really lesser-known.
Probably because we just made it up.
Anyway, it's the day when you buy all sorts of really random knickknacks from some guys who live in England.
And that day is today.
Start scrolling through
Slowdownjoe
, a tightly curated shop that collects the most handsome odd stuff (like flasks, headlamps and leather jackets... for pens) in the world, online now.
If you're one of those people who appreciate strange, aesthetically pleasing things from the far corners of the earth (also, Baxter of California and Filson), well, heck, you should probably bookmark this site. Currently in stock: everything from hole punchers to Italian licorice-mint toothpaste to a bandana emblazoned with images of trout. (Weird, you've been in the market for one of those.)
And hey, not to get you all stressed out, but in a few weeks, you might be required to stuff a stocking or seven. That would be a great excuse to buy a bunch of stuff from these guys. We're thinking a stainless-steel coffee dripper for your dad, a circular flask for your uncle and some absinthe-filled hand cream for... well, that one's for you.
Just remember to act surprised when you unwrap it.