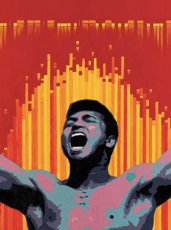 You spent the weekend complimenting Mitt Romney costumes and mastering the art of looking nonchalant while jamming 27 gallons of water into a shopping cart.
And if this thing lives up to the hype, you might be in the market for some new material possessions by tomorrow.
Strange times, these.
Anyway, about those possessions...
Check out
Barb and Bear
, an online wonderland of spectacularly unnecessary curios from New York designers, now making the Internet a more magical place to weather Sandy.
You've got clothes, art, housewares and "other" all here. It's generally the kind of stuff that looks like it was dreamed up by some wistful Brooklyn girl who belongs to no one and never will. Here's a taste of what you'll find:
—A cashmere English fox-hunting coat.
—Tartan-cotton-lined selvage jeans.
—Photos of unclad women in wheat fields. Developed using an antiquated process, naturally.
—Votive candles featuring photos of nude women (too easy).
—A lamp made from a Korean War cannon shell.
—An art print made by visualizing statistics from the '86 Mets season.
—Painted Hall & Oates cufflinks. One is Hall. The other: mmhmm, Oates.
—A four-foot-wide thumbtack mosaic of Kanye.
—A nice walnut side table.
Clearly, it's nothing if not essential stuff. And it's all conceived and crafted by nascent New York designers.
And you can probably trade some of it for soup if need be.