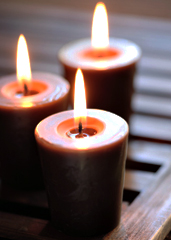 So... big weekend.
One of those not-quite-Halloween-but-definitely-full-on-Halloween weekends.
Let's see, there was some tricking. Little treating. That part where you realized you lost all but the Jason mask portion of your costume.
Anyway, sounds like you've earned yourself a massage.
Allow us to suggest the one where someone rubs hot candle wax all over you...
The one that's called the
Hot Candle Wax Massage
, a randomly sensual rubdown that involves vigorous stroking, hot stones and (you guessed it) melted wax, available starting Thursday at all Spa Sydell locations.
If it helps to think of this as
Fifty Shades of Massage
, then go for it. Because sure, there's a massage (you're familiar). And sure, there's hot wax (also familiar). And that housemade oil they're kneading into your back—well, that has candle wax in it, too.
Maybe it's a solo mission. Then again, maybe it's a couples massage. (Hint: it should probably be a couples massage.) Either way, a masseuse is definitely about to lay hot stones on your back, work on your pressure points and rub the liquid remnants of what was once a soy candle over your muscles.
And yes, if you ask nicely, they'd be happy to experiment with some straight-from-the-candle wax in addition to the oiled-down version. You know... in case you've ever wanted to try that.
Again.