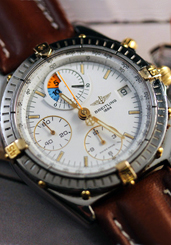 What you wear around your wrist says a lot about you.
For instance, if you wear a piece of string cheese around your wrist, that says you like snacks. It also says you're an awkward person.
But watches.
Watches are what we're really talking about here.
Vintage ones. The kinds that don't like to draw attention... but scream from the rooftops when they do.
The kinds that come from
Analog/Shift
, a new watcheteria stocked with nothing but vintage timepieces from the '50s through the '80s (aka, the golden age of seeing what time it is), online now.
Really, though. Just some beautiful stuff here. And it's all thanks to a few guys in NYC who've made it their life's mission to scour the planet in search of retro-analog perfection.
That mission went well, by the way. So go ahead, take a look around. Consider that Rolex 1675 GMT for the next time you want to turn drinking a beer into a spectator sport. It was designed for Pan Am pilots in the '60s. You can tell people that.
Or that Heuer Yacht Timer, which was originally deployed as a countdown clock for regattas. That's got to count for something. Breitlings from the '60s. A Citizen Chronograph from the '80s. It's all there for your amusement.
But mostly for telling time.