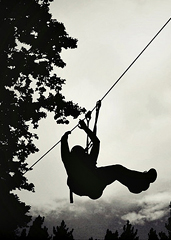 Ziplines. You know the drill.
Couple of trees. Big steel cable. Super-uncomfortable harness.
You climb. You hook on. You gloriously soar through the air like some sort of safety-helmet-wearing Pegasus.
And then, a crazy man with a chain saw chases you.
Hmm, must be a Halloween thing.
Prepare to experience the first
Haunted Zipline Canopy Tour
, a Halloween-themed zip that combines the frights of a haunted house with the fear of, you know, dangling by a wire 60 feet above Lake Lanier, taking reservations now for this Friday through October 31.
Right now, you're probably thinking this seems weird/intriguing/long overdue—a haunted house that's been deconstructed (gone are the house parts, kept are the scary ones) and hung in midair. And right now, you'd probably be right.
What you're going to want to do is get yourself (plus someone who's not afraid of heights or ghosts) to Lake Lanier. Then, put a harness on. A guide will lead you through a zipline course. Along the way, things will pop out and scare the bejeezus out of you. Like a sky bridge full of the undead. Or a campfire massacre on the ground below. Or the Grim Reaper (guy loves his outdoor sports).
Also, we should probably mention that this is all happening in the pitch dark (tours run until midnight).
So watch where you're flying.