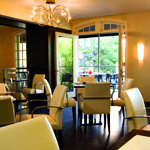 EL' ON EARTH
The Ellis Hotel
Legend has it: A fire almost burned down the 15-story hotel in 1946. Staffers say the basement walls occasionally "cry." Possible explanation: shoddy plumbing.
Tricks/treats: A balcony overlooking Peachtree Street, wine tastings and a private entrance.
For channeling: Nicholson in The Shining, Perkins in Psycho and Dunston in that movie where he checks in.