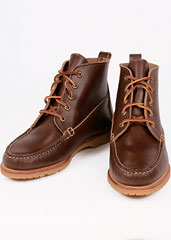 You love a quality hot shave by a master barber.
Lying back, feet sort of up. Getting clean.
Now picture that, but outdoors, and flanked by a massive pop-up hawking entirely USA-born goods, curated by Ball and Buck. With food trucks.
Thus, witness the
American Field Pop-Up
, a two-day extravaganza of all things Stars-and-Stripes-made, with live music and outdoor shaves thrown in, coming to the South End in late October.
So get this on your calendar now. Because at the end of the month, some 30 proudly-USA brands will have lots of American-made products at your disposal. Say, moccasins from Rancourt & Co., who will have a master cobbler on site. Or sunglasses by Randolph Engineering, who supply shades for US fighter pilots. Maybe even a bright new flask to complement the Four Roses bourbon tasting happening, which they'll fill with something from their reserve line.
And after you've finished grazing from the local food trucks and outdoor beer garden, you'll be able to employ Ball and Buck's master barber for an outdoor touch-up to your coif or beard. He'll be present both days.
If you can't spot him, he'll likely be the only guy with a barbershop chair beside him.