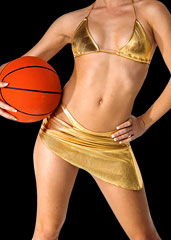 The Miami Heat are not moving.
That's the good news.
But we're getting a new pro basketball team...
They're a tough and gritty squad. A real bunch of scrappers. John Wooden would have loved them.
Also, they play all their games dressed in barely there bathing suits.
Meet the Miami Spice of the
Bikini Basketball League
, a flagship franchise in the country's only two-piece-required basketball association, hosting tryouts this Saturday.
Okay, so this is sort of like the Lingerie Football League, except instead of playing football, these women are playing basketball. And instead of wearing lacy things, well, they're partially covered up in the sort of swimsuits one might classify as small. Small and unsupportive.
Now, the inaugural season doesn't tip-off until 2013. But they've already started recruiting/collecting headshots for teams in key cities. Think: New York, Chicago, Des Moines (okay, maybe don't think Des Moines). And this Saturday, our hometown Spice will be holding live tryouts. Seems like something of historical significance. You should probably attend.
And while you're there, maybe have a hot dog. And a cold one. And find out about how to purchase a season ticket plan.
Or, you know, apply for the head coaching position.