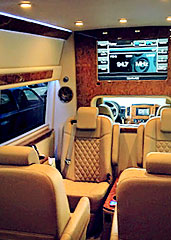 Last year, you wasted 18,762 hours of your life sitting in traffic.
Give or take.
Think of all you could've accomplished if somebody drove you home from work... in your conference room.
Behold the mobile splendor of
Meetings on Wheels
, an amazing piece of modern technology that will alter the very fabric of... okay, it's a fancy conference room on wheels, and it's available now at the Four Seasons.
Last week, you felt pretty up-to-date rolling some calls with Siri at stoplights. That was last week. Today, you could be booking yourself a fully wired conference room for eight—it's the size and shape of a Mercedes van. But it's got cozy leather swivel chairs, wi-fi, two plasma screens and plenty of outlets. And a hotel chauffeur behind the wheel.
So instead of driving
to
the meeting, you can
have
your meeting in person. On the 10. Pointed directly toward martinis. To celebrate the deal you just made on the way. This, friends, is what's called getting sh*t done.
Now, technically, this piece of rush-hour genius is only available to guests of the Four Seasons in Beverly Hills. But if you do have a room, it's available to book.
We think you know what to do.