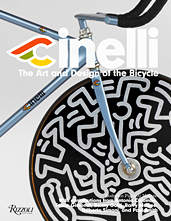 Butterfly in the sky.
I can fly twice as high.
Take a look.
It's in a book.
The Reading Rainbow
.
...
Also in a book: 288 pages' worth of classic Italian bicycles.
Check out
Cinelli: The Art and Design of the Bicycle
, a handsome tome dedicated to 10-speeds and the artists who love them, available now for preorder.
Cinelli. Perhaps you've heard of them. Sort of the Apple of the bike world (though Schwinn may disagree). Well, they've been manufacturing gorgeous-looking bikes for over 65 years. Rides that have been in the Olympics. Or in movies. Or on really fancy paper routes. And this book: a glossy collection of their finest work (and most attractive/famous riders).
Inside, you'll find black-and-white shots of Cinelli's first bikes from the '40s. Also, one-off collaborations and interviews with artists like Keith Haring and Mike Giant, and clothing designer Sir Paul Smith (no, it's not an essay on bike shorts).
If you appreciate culture, have an eye for art and/or own a coffee table with some unobstructed surface area, you'll want this. It'll make for a great conversation starter the next time you have some folks over for Negronis.
Especially if one of those folks is Lance Armstrong.