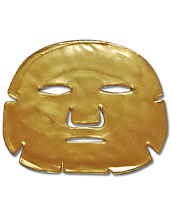 James Bond: now there's a guy who knows how to order a martini.
Shaken.
Not stirred.
With gold.
And rubbed all over his face in a rhythmic fashion.
Wait. No. Whoa. That's not right...
Does sound pretty good, though.
Presenting the
Shaken, Not Stirred, Martini Facial
, an... exactly-what-it-sounds-like spa treatment that essentially consists of you wearing a mask made out of 24-karat gold and having Tito's vodka massaged into your mug, available September 21 to October 31 at Sweet Peach.
Okay, let's call this what it really is. Strange. And sort of feminine. But you like vodka (at least drinking it) and you enjoy gold (at least owning it), so on those grounds alone, this is probably one of those things you need to try.
First, you'll want to get yourself over to this Virginia Highland salon. Head inside, pass by some cougars getting their eyebrows waxed and slip into a back room. It's a bit more private/quiet back there, so go ahead, lose your shirt.
Then, sink into a massage bed, close your eyes (you know, unless you'd like the burning sensation of alcohol in them) and prepare to have your neck and head rubbed with, well, Russia's favorite beverage.
Once your scalp is sufficiently relaxed/drunk, on goes the mask. It's 24-karat gold. It'll tighten your skin. It'll...
Make you look like a really well-to-do serial killer.