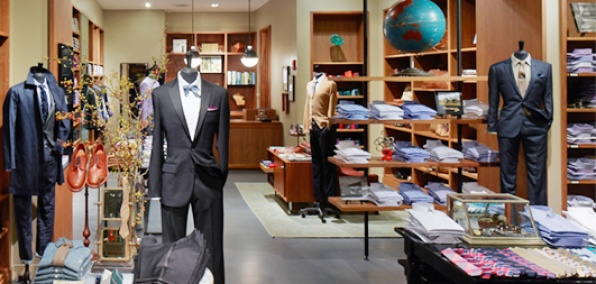 Office-wine Tuesday has its drawbacks (not many, but they're there).

Notably, what to do when that glass of Argentine malbec spills all over your suit during a—shall we say—animated moment with your assistant in your office.

A replacement suit is needed. With pocket square. Delivered. Stat.

Wave your magic hands for The Ludlow Shop, your new suiting savior for Italian fabrics, tailoring and monogramming, now open at Copley Place.

What you have here is the first locale for J.Crew's line of Ludlow suits and shirts outside of NYC. Which means the next time your worldly affairs call for said suits (read: sharp, slimmer fit than regular off-the-rack threads; Italian- and British-milled fabrics), you've got this spot on your side.

You'll head in and grab a glen-plaid Italian wool flannel number, maybe a spiffy tie. And if needed, you can use their monogramming and tailoring service to have it perfectly cut to your jib (which is looking quite svelte these days).

Should a sparkling new cashmere sweater also be required, good news: they just rolled their old menswear shop into here. If you're in a hurry, you can even have the whole thing couriered right to your office from the store.

Creating a whole new reason to disrobe in your office.