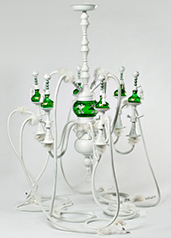 Let's talk about your chandelier.
Oh right, you don't have a chandelier.
Which makes us wonder how you see where you're going when you dramatically descend your grand spiral staircase in your grand marble foyer in your grand... Midtown studio.
Also, it makes us wonder what sort of light fixtures you've been using to smoke tobacco out of this whole time.
Presenting
AntiBellum
, an art project by a rebellious Southern belle who specializes in custom chandeliers... that double as hookahs, opening this Friday in the SCAD galleries.
So, this woman (you can call her Whitney, because, well, that's her name). She's pretty arty. And crafty. She likes to make things. Sometimes inconspicuous-smoking-pipe-type things from found materials that look like a cross between a light fixture from an old plantation and an art installation from the W lobby.
We're thinking the space between your front door and your living room. That's where one of these stark-white, antebellum-era dangling lights would look great... and really tie the room together. To procure it: stop by the gallery and see what's showing. If you can't find the sort of smoking chandelier that catches your eye, no problem, Whitney will make one from scratch.
Yup, with a little heads-up (and a lot of old music boxes, rabbit fur and hookah hoses), she can build a custom light in any shape you'd like.
You've always had a thing for rhombuses.