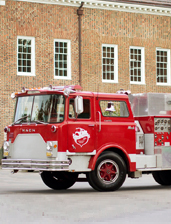 You've always had the utmost respect for the fire department.
It probably has something to do with their never-ending quest to fight fires and practice paramedicine. Oh, and the shiny red trucks.
But if you had one complaint...
... it's that they've never once poured you a beer.
Changing that is
Hook & Ladder Draught House
, a fire truck turned draft beer dispensary, available now for rent.
Think of this like... well, it's literally a fire truck that's been converted into a rolling tap room. A beer bar on wheels. With a driver who pours a mean pint. So it's no longer serviceable for fire duty. But it's more than ready to quench your thirst at your next Cowboys tailgate, backyard barbecue or especially committed public service theme party.
First things first: you've got to rent it. You'll start by calling them up and selecting your 10 beers from a pool of 100. Perhaps a nice Longboard Lager and some kegs from Brooklyn Brewery. That should do the trick.
Or find them around town. Like next Saturday, when they're doling out beers at Brew Fest. Or next week, when they're serving you pizza. (Oh yeah, these guys also do pizza.) That'll come via a second fire engine, equipped with more kegs... and a wood-burning oven.
Which is kind of ironic, really.