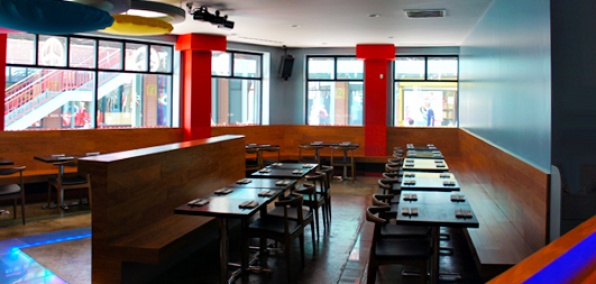 Maybe it's you. Maybe it's us. Maybe it's the world. Maybe it's this whole damn Tuesday-blues-after-a-three-day-weekend thing.

But something seems out of place. Topsy-turvy. Like someone sat at your desk yesterday, fiddling with your collection of precious antique executive toys. Yet, no. That's not quite it.

Ah, yes. Of course. What you're feeling—what we're all feeling—is that unmistakable tingle that runs up your spine every time a Japanese restaurant in Chinatown transforms into a Chinese restaurant.

Here's the latest culprit: Lao Ma La, a corner refuge of hot pots, spicy chicken giblets and kung pao shrimp, now open.

This is another domain of the putative mayor of Chinatown Square, Tony Hu (Lao Beijing, Lao Sze Chuan, Lao... etc., etc.). He's done a very minimal job of painting over what was the short-lived, hipster-sleek Lure Izakaya Pub. But he hasn't yet taken down the Lure sign, so just follow the scent of spicy peppers to find it.

Once inside, you'll eat the way they do in contemporary China. Small clay hot pots filled with a fiery broth and anything from grilled shrimp to pork balls arrive at your table ready to challenge your tongue to a duel. And if you wanted to go with a mini wok filled with sizzling pork intestine, you can do that, too.

We won't stand in the way of a good intestine.