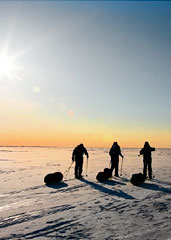 This weekend, you'll be sitting by the pool with a watermelon-based beverage, thinking up ways to see what you're made of months from now when you're clutched in winter's icy grip.
Being trapped in polar bear country with no choice but to ski your way out usually works.
Presenting the
Polar Challenge
, a four-week cross-country ski race from Northern Canada to the Magnetic North Pole, accepting challengers now for an April departure.
Your journey begins in a windswept Canuck region called Resolute (you'll see why) with a 10-day primer on everything from pitching a snow tent to surviving an unforeseen ice fall. (Obvious tip: don't just spend the whole time texting.) A gun blast will be your cue to venture into the white yonder. There'll be time over the next 350 nautical miles to get to know your two teammates better.
The difference between entering and finishing: braving subzero temperatures and 80% of the earth's polar bear population while crossing a series of checkpoints, where you'll be able to refuel on vital supplies like food and cocoa.
If that still sounds daunting, you'll want to enroll in the Adventure Academy, a survival training camp held each January in Norway, to become acquainted with arctic conditions.
Great excuse to wear white again for camouflage.