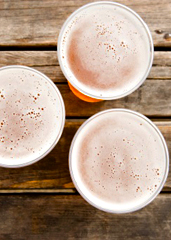 The beer garden.
It's a beautiful thing.
With its devout commitment to beer.
And devout commitment to soft pretzels.
And lack of a physical address.
Now about that last one...
Introducing
Party in the Park
, a guerilla-style pop-up beer garden that's serving you brews in a different Downtown park each Thursday in August.
Here's a little-known fact: Downtown Dallas is full of parks. With trees and lawns and fountains, and most relevant to your alfresco drinking schedule: some impending beer gardens. The kind that will pop up on Thursday afternoon at 5pm, serve craft beers and keep their location secret until 24 hours in advance. Which means you'll need to check
Facebook
or
Twitter
for the rendezvous point/keep your head on a swivel.
So location in hand, you'll show up to the designated park this Thursday. Find the guy behind the black-cloth-covered table and walk in his general direction. Because he's your bartender for the evening. And he's pouring a handful of beers. Grab one, then find a place to sit. At a table. In the grass. Near that group of yoga instructors. Hey, wherever's shaded.
And should you require non-beer sustenance, bring a snack. Because picnic baskets are welcome. Same with guitars, dogs, inflatable pools...
But just because you can, doesn't mean you should.