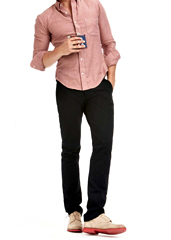 Your primary sartorial concern at the moment: swimsuits. Also: swimsuits on other people.
But we have it on good authority (NASA) that it may yet get cold again. So you may need things like pants, jackets and even some flannel.
We know someone who can help. And he's local.
Say hello to
Read Wall: Modern American Classics
, a Washington-designed, made-in-the-US line of preppy-but-not-too-preppy basics, taking preorders online starting today.
You may remember Read, of Read's Clothing Project fame. Local kid. Shirtmaker. Loves him some plaid. Well, Read decided shirts wouldn't cut it, and
the result is this full line
that's undeniably preppy, but without all the pastel pink and little whales that that sometimes means.
Instead, think tab-waisted chinos in deep burgundy and English club ties—a little thinner than usual—sporting patterns with monkeys and hula girls. Also, flannel button-downs and dark madras shirts made from Japanese fabric.
But before October rolls around, you'll want to get your hands on the parka-style wax jacket with a hood, a full zipper and a finish that won't let the elements in—that happens to come in bright orange.
It's especially handy if you need to moonlight as a crossing guard.