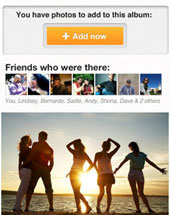 You got some outstanding photos on your phone over the weekend.
Only in LA could you step out of a bar and suddenly meet three Laker girls, four shih tzus, Angelyne and that guy who dresses like Jesus.
Turned into quite the house party afterward.
Too bad you're not in any of these photos, and your friends are slacking on posting theirs...
Introducing
Flock
, a cunning new app that helps you and your friends automatically share photos with each other in a single, streamlined, that-really-just-happened album, available now for iPhone.
Think of this as the way to get your hands on the photos you like that you're in—not just the ones you took. First, convince all your Facebook friends (or at least the ones you actually like and hang out with sometimes) to get this thing. It's free. And then... you can all forget about it entirely. Go about your business.
Next time you're all out together, snapping photos at the beach with Instagram or whatever, just like before, it'll know who else is there. Something about your Facebook connectedness as friends, and the fact that everybody's GPS is telling the app your phones are all at the same place. (Or maybe it can just hear you all saying cheese.) So when you leave, Flock automatically pings you all: "Hey, here are all the photos everybody just took. Great hair all around."
We're paraphrasing.