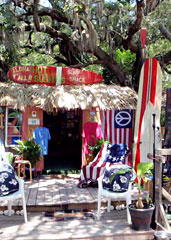 Bobby, Joey, Harold, Doug, Suzy, Greg, Louis.
Those are normal names. Those are not the names of people who night-surf.
Hot Sushi.
That's a weird name. That's a really weird name. That's the name of the kind of guy who night-surfs.
Actually, correction—that's the name of the kind of guy who teaches you how to night-surf.
Presenting
Hot Sushi's Surf Shack and Lessons
, a strange little surf shop on Tybee Island with a special/exhilarating/
Point Break
-ian after-hours policy, now open.
So you want to learn how to surf. Great. Grab some zinc, grab some trunks, find someone you wouldn't mind seeing in a bathing suit and head toward Savannah. Once you hit Tybee Island, stop. There, look for a little roadside tiki hut. It's got a peace flag out front. It belongs to Hot Sushi.
Inside, you'll find what looks like a garage. Or a toolshed. Except it's packed with longboards and logo shirts and wetsuits and Sex Wax. Pick out something seaworthy. Then, when you go to pay, tell Hot Sushi you're interested in a test-drive. He'll say sure. Suggest tonight.
See, after Mr. Sushi closes up shop for the evening, he'll occasionally conduct night-surfing lessons for his most loyal/fearless customers. Do this. Primarily for the learning experience, but also for the story.
It's not every day you cheat death with a man named Hot Sushi.