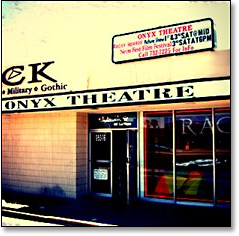 Vegas has cheesy impersonators, aging pop stars and giant Broadway classics—and we love Vegas for it. But every now and then we crave something a little more culturally inclined (but still Vegas-y of course).  
Something that may involve a stage and...a sex shop.  
Welcome to the
Onyx Theatre
, a
hidden treasure of the Las Vegas arts scene.
 
While the kink shops and swingers clubs surrounding the Onyx may not be your usual destination for a night out in Sin City (at least not officially...), Onyx's theatrical sendups may be just what you need to shake things up.
 
But be warned: We're not talking Hamlet here. 7 Blowjobs, Cannibal! The Musical and Lysistrata have all graced the Onyx stage, plus a no-holds-barred interpretation of Shakespeare complete with cellophane-clad actresses. The theater itself is small (there's only 100 seats) and off the beaten path, but always chock full of insiders and big-time performers on the sly.
 
Slated for the 2008-2009 season are Kafka's Morphotic, American Buffalo and Reefer Madness, to name a few. You may even catch a Cirque du Soleil performer blowing off steam and showcasing a side project.
 
And by blowing off steam, we mean...never mind.