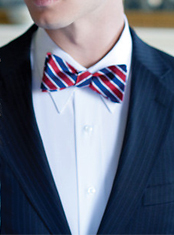 If your name is Abraham Lincoln, Thomas Jefferson, Colonel Sanders or Playboy Bunny, congratulations, you're excused from reading this.
We can't help you.
Partly because three of you are dead and the other of you is a fake rabbit.
But mostly because you already understand the importance of a good bow tie.
For everyone else, well, there's someone you need to meet.
Presenting
Brier & Moss
, a locally based online outfit that exists for the sole purpose of selling you summery, Southerny, dapper bow ties, available now.
So, these guys. They're from the area. All they do: eat, sleep and drink bow ties. The kind of bow ties someone like you would look real sharp in. Silk things. Striped things. Things that say you're a gentleman... who may or may not also be in a barbershop quartet.
Either way, go to this site, check out the wares and buy something nice for your neck. If you've got a black-tie affair on the calendar: great, they've got something black. If you're going to Steeplechase: perfect, they've got something covered in bugles. And if you require a comically large tie to wear to clown college: yeah, they don't have any of those. But shoot them an email. They're always open to collaborate on an original.
Or a bolo.