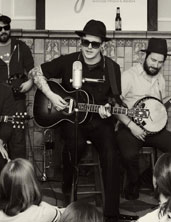 Madison Square Garden.
Wembley.
Red Rocks.
American Airlines Center.
Your neighbor's living room.
Four of those are legendary concert venues. The other is where the Mavericks play.
Presenting
Sofar Sounds
, a roving pop-up party that organizes and throws live concerts in people's dens, touring through Dallas now.
To truly understand this, imagine every scene from every Hollywood movie about any house party ever. Cars lined down the block. Strangers drinking from red Solo cups. Some poor schmuck's family room being torn to shreds. Now, throw in a band (of the professional variety). And take away Seth Green.
So this rogue operation (it was started in London, naturally) basically bounces around setting up mystery shows in intimate venues. Like apartments. Like your apartment. Though this may depend entirely on how much you value your stuff. And whether or not you own a smoke machine.
But if you're merely looking to attend rather than host, you'll need to get on their email list. Do that. And 24 hours before the next concert, you'll receive a notice. Sign up quick. Only the first 100 people get invites. Then, just show up at the given address with a lighter. And a sixer.
And remember to wipe your feet before entering.