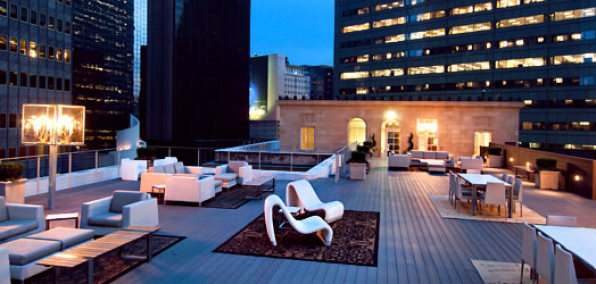 The Fourth of July.

It's coming. In a bunch of days. But still, coming.

Which means right now, you plan.

You still need hot dogs, hamburgers, fireworks, Neil Diamond, domestic beer, flank steaks, a marching band, margaritas, a guy on stilts dressed like Uncle Sam...

And, well, pretty much everything except a 100-year-old private rooftop with an unobstructed view of downtown Dallas.

That's already been taken care of.

Enter The Venue at 400 North Ervay, a panoramic/patriotic private terrace that's available now for any sort of affair one could imagine... that requires a roof.

Before we begin: a history lesson.

In the 1930s, this building was a courthouse. Many years later, a five-story high-rise. Today, well, it's still a five-story high-rise. Only now, it'll double as your deck.

To turn this thing into your own personal box seat for the Fourth, you'll need a reservation. Also, depending on what sort of party you have in mind, between one and 100 guests.

Once booked, walk in the lobby, make finger guns at the doorman and take the elevator to the top. Up there: a sprawling wooden space with lounge chairs, a garden, a bunch of oversized lamps and... whatever else you please.

Because with a proper heads-up (and a little convincing), the proprietors behind this place will stock the roof with anything you require. As long as it's within reason.

And not a fire hazard.