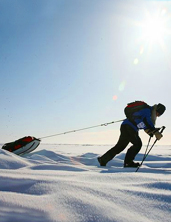 January 2013.
A barren ice world. Winds blowing like a vengeful Arctic hurricane.
And you: equipped with nothing but a pair of cross-country skis on your feet and a team of British Special Forces at your side to see you through it.
Actually, this should be a breeze...
Enter
Adventure Academy via Extreme World Races
, an Arctic survival course that conditions you to coast through a wintry apocalypse on skis, taking reservations now through October for January 14.
The day you find yourself exiled in the Siberian wilderness for political dissent (or more plausibly, lost in the woods after an exceptionally cocky bout of cross-country skiing) is the day you'll fall back on these skills.
To instill them: a group of Marines and British Special Forces, whom you'll meet at a training cabin in Hjerkinn, Norway (your Arctic stand-in for the week). For the five days, you'll take to the surrounding ice fields to cover the basics of ice-world survival (building fire on snow, layering for warmth, the
right
way to climb out of a watery crevasse when ice-skating/fishing goes horribly awry). All in minus-30-degree temps.
To put your leanings into practice, you'll embark on an overnight ski trek, towing sledges through 40 mph winds from camp to camp for three straight days. And if that inspires confidence, you'll be glad to know it's a pre-req for a series of ice races across the great frozen tundras of the world.
Sadly, none of them Green Bay.