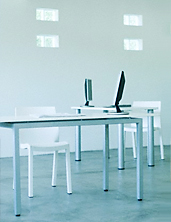 First, there was your office.
A place of business. A place of productivity. A place of incredibly well-stocked wet bars.
Then, there was that other place.
Your second office.
A place of... well, anything but that other stuff.
Except the wet bars. They can stay.
Introducing
eWorky
, a new website that lets you peruse an endless array of fully rentable offices, group work spaces and the occasional strategically selected back room of a restaurant, online now.
The point is, your office-office is for working. Just... working. And that's no way to live. You need space. You need a place to call your own. You need a secret 38th-floor annex to conduct mini-golf-related experiments and host the semi-regular (and fully sanctioned) Budget Projections Paper Airplane Competition.
And to that end, you'll find your way to the site, sign up and begin the perusal process. You can search based on location (they're everywhere), the type of space you're looking for (secret boardroom, private office in the back of a restaurant... museum) and the amenities you require (wi-fi, air-conditioning, owner's willingness to turn a blind eye to the installation of a four-poster bed).
Once you've decided on a winner, all that's left to do is shoot the owner an email through the site and work out a reasonable price.
Although you can't really put a price on freedom.