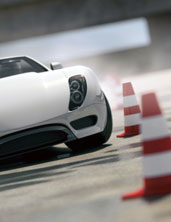 Good news: it's now legal to drive 120 mph in the state of Georgia.
However, there're some slight stipulations.
1. You need to be in Dawsonville.
2. You need a special membership.
3. You have to wear a collared shirt.
Allow us to explain...
Presenting
Atlanta Motorsports Park
, a handsomely appointed country club that's replaced their private golf course with a Formula 1–caliber racetrack, accepting memberships now.
So, this place: brand-new. The racetrack: ready to go. The club: still under a bit of construction. While you wait, the four things you'll absolutely need to know...
The Clubhouse

Here's what your dues will get you (besides a pit crew): pool access, tennis court access, fitness room access and entry into a biometric-fingerprint-protected lounge for post-race cigars/deep conversations about torque.
The Cars

For now, take whatever in your garage has the most horsepower and the most air bags. But that's only for now, because soon they'll have a stable full of foreign-made rides for member use. We suggest anything with a prancing stallion on the hood.
The Track

It's a two-mile amalgamation of some of the most famous straightaways and hairpin turns from around the world. The Nürburgring "Carousel." The Spa-Francorchamps in Belgium. Spaghetti Junction (allegedly).
The Go-Kart Track

Yup, they'll have one of these, too. Ideal for a third date. Or a 14th birthday party.