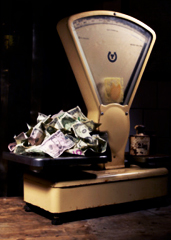 Failure: not an option.
Losing: not an option.
A cheeseburger stuffed inside a pizza stuffed inside a taco that's covered in pulled pork: also not an option.
Well, for the next 28 days, at least.
Testing the outer limits of your willpower is
DietBet
, a website that combines healthy old-fashioned weight loss with a healthy old-fashioned gambling competition, online now.
This is like the Kentucky Derby of dieting. Except without horses. And jockeys. (But feel free to break out a pair of jodhpurs at the gym.)
To start: you'll sign up for this site, set the amount each entrant has to wager (somewhere between $20 and a lifetime of servitude) and then... commence taunting.
For the next few weeks, there'll be scheduled workouts and monitored weigh-ins (administered/posted by the most trustworthy person in your group), and 28 days later, a winner who'll be both richer for the experience and just plain richer.
So if you start now, you can wrap this thing up right around Memorial Day. Perhaps the loser can be in charge of grilling everything, while the winner can be in charge of eating everything.
And that, folks, is what we call a vicious cycle.