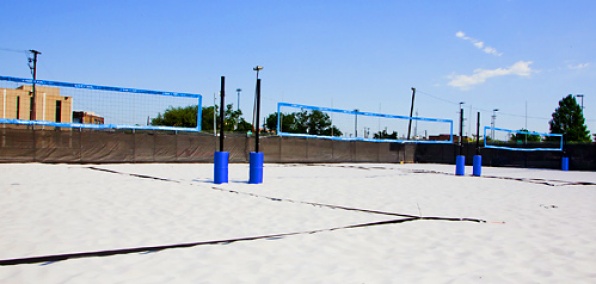 Timing. It's everything.
Here you are, days away from the biggest margarita-based holiday of the year, when what should appear but a humongous beach bar.
In the middle of Dallas. With a pool. And a patio. And a co-ed beach volleyball league.
Why, yes, it's a real-life Cinco de Mayo miracle...
Presenting
Sandbar Cantina & Grill
, a pristine plot of sand that's bringing the perks of coastal living (and a couple
Blue Crush
types) to the heart of Deep Ellum, accepting league sign-ups now and grand opening in late May.
Yes, this is one you'll tell your kids about someday. But for now, it's merely one you'll come to during those all-important early days of summer. When things like a pool, a piña colada in a coconut shell and a half-dozen beach volleyball courts would really come in handy.
Cue obligatory
Top Gun
joke in 4, 3, 2, 1...
Starting now, you'll be able to
sign up
for Sandbar's Cinco de Mayo volleyball tournament (your old team, In Goose's Honor, due for a comeback). It's all run by a former AVP pro and sponsored by Corona (remember to hydrate).
And come late May, when they open up the rest of the facilities, you'll be free to gather your squad in the surfboard-clad tiki bar and on the downtown-overlooking patio for team drinks.
Otherwise known as practice.