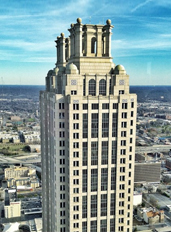 On your mark...
Get set...
Go... run up the stairs of a 50-story Downtown skyscraper in really short shorts while roughly 600 people chase you.
Introducing
Fight for Air Climb
, a competitive vertical dash up the 1,012 stairs of Peachtree Tower, registering now for this Saturday.
We know what you're thinking. This sounds like torture/something you'd only do when training for a title bout versus Apollo Creed. But consider that it's for a good cause (fighting lung disease). Also, consider that there'll probably be a trophy.
You'll prepare for this just like you would any old horizontal race. Get a good night's sleep. Stretch the bejesus out of your hammies. Get the song from
Chariots of Fire
stuck in your head. Then, when you get to the base of the building, you'll be given a microchip (this goes under your shoelaces to track your time) and a number. When they say go, you climb. And you don't stop until you've cleared every last floor/left every last Kenyan in the dust.
At the peak, there'll be water. There'll be breathtaking views. There'll be an express elevator down to the lobby. And when you finally hit the ground floor, head outside to find a celebratory block party with live music, cold beverages and meatball subs.
Nothing replenishes electrolytes like warm marinara.