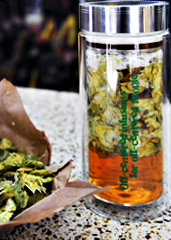 Quick, put that beer down.
First of all, someone's coming, and they might not appreciate that you've turned the conference room into a tavern.
Secondly, we'd like you to contemplate said beer for a minute. Sure, it's hoppy, malty and all that. But imagine what it could be, what new secrets you could unlock—if, for example, you stuffed a mango into it.
Stay with us, because we'd like to tell you about the
Randall Jr.
, a nifty single-serve vessel from the good folks up the road at Dogfish Head Craft Brewery that almost instantly infuses your beer with just about anything.
First up: this thing looks like the water bottle that you'd take camping. But that bottle doesn't have what this has: a little mesh insert suspended in the middle. That's where the magic happens.
To begin, you'll decide what you want to infuse your suds with. Maybe it's something as simple as extra hops (the hydroponic hop farm in your closet finally comes in handy). But maybe it's something more creative—say, from your kitchen.
Then you'll pack the bottle with your chosen dried chilies, beef jerky or marshmallows, fill it up with beer, stick it in the fridge for at least 10 minutes and pop the filter on it so all that stuff stays in. Then drink it.
Or donate it to science.