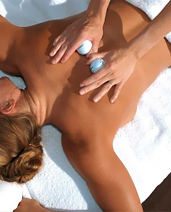 Masters weekend was stressful.
The pressure of the gallery watching on. The butterflies. The inner drive to sink that putt.
Even in the face of that oversized windmill.
That round of mini-golf really did a number on your infraspinatus fascia...
Good thing there's
The Golfer Massage
, a Masters-inspired treatment that involves a massage table, some warm golf balls and a masseuse probably named Ramona, available now at the Four Seasons.
You've heard of a hot-stone massage (and by heard of we mean coinvented). This is like that, but someone swapped in dimpled, white spheres in order to more effectively tenderize you.
First, don't go in there expecting a Swedish rubdown, a Thai stretching session or a Hindu chakra-balancer. This thing is designed to seek out and annihilate any golf-related or other stiffness you may have, so Ramona will use secret stretching techniques and those heated golf balls to work you into knotless submission.
If you want, they'll also set you up with 18 holes, a bucket of balls and a golf cart at a nearby course, so... do that. After birdying the 18th (and making a pit stop at the 19th), you'll drop your clubs at the spa and be led into a private room for those 80 minutes of unfettered golf ball pummeling.
You like bowling, too, but that might be a little much.