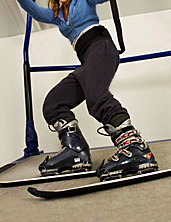 Last time you checked, skiing was an individual sport.
Still, behind every great athlete (of the pro or weekend variety) is a team of world champions, international superstars and a whole bunch of NASA-grade training equipment.
So here is yours.
Presenting
The Ski & Board Doctors
, a comprehensive Aspen ski clinic led by some highly decorated instructors with a highly classified indoor simulator, taking reservations now.
Basically, this is how you'll train for the 2014 Sochi Olympics. Or make the most out of an Aspen vacation should the snow start to melt.
So, your head coach for the program, Hall of Fame skier (yes, that's a thing) John Clendenin, is going to take you and his staff up a mountain each morning to master four fundamental types of skiing: powder, chute, bowls and moguls. (We'll assume freestyle alpine hot-tubbing was #5.)
Then, in the afternoon (or in the event of no snow), John will bring you back to his lab (picture the Russian's training facility in
Rocky IV
, but with more ski poles), where he has a state-of-the-art ski simulator rigged up. It's part wool, part conveyor belt, and it does a nearly flawless job of mimicking actual run conditions. Also, it's housed in the same part of the lab as the day spa.
And that's what we call a happy coincidence.