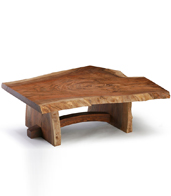 Say the name "Ron Swanson" and you think of...
A truly resplendent mustache. A preternatural ability to grill meat in the office. A tendency to go nuts and braid his hair for the woman he loves.
Oh, and a guy who just made you a table. Sort of.
Take a look at
Offerman Woodshop
, the home for side tables and other wooden curios built by Nick Offerman himself (aka the man behind TV's manliest character), online now.
Just in case you managed to miss his appearance on
The Martha Stewart Show
(not sure how that happened), you should know that Nick Offerman isn't just Mr. Megan Mullally, and isn't just the man behind Ron Swanson on
Parks and Recreation
. No, in real life he also builds stuff. And now he has a website where he sells stuff.
So if you're in the market for the sort of end tables that look like tree stumps, but that also function as pretty unusual conversation pieces—here you go. The site also sells random goods like a cribbage board, a tackle box and, allegedly coming this May, some mustache combs.
Just in time for sweeps.