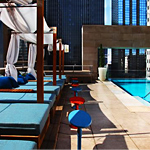 FORECAST: HOT. DAMN HOT.
The Joule Poule
The Situation: Sunny. 93 degrees. 65% humidity.
The Play: Settle into a Saint-Tropez-esque bungalow overlooking downtown. If you feel a bead of sweat, calmly cannonball into the infinity pool.
The Audible: Hide from the rain with some steak frites at Charlie Palmer. We recommend drying off first.