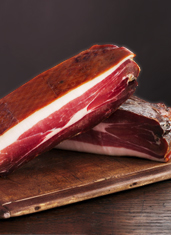 Pigs will probably never fly.
It's time to recognize this and instead celebrate everything pigs
can
do.
Torture Kermit. Hold an apple in their mouth. Win best musical or comedy at the Golden Globes. (Babe, we hardly knew you.)
But above all, be incredibly succulent.
Throw on a bib for
Møsefund Mangalitsa
, a line of mail-order delights made from a rare breed of Balkan pig, available in all the best pork forms now.
Yep, we're talking about the fabled Mangalitsa pig—a breed known for being a little more tender, a little more flavorful and a lot more gloriously fat-marbled than your average swine. That's why places like Osteria Morini, 21 Club and Saxon + Parole in NYC use the stuff—and now, you're free to dig in at home.
Bacon is the prize here. Also: tenderloins, chops, baby back ribs, shoulder roasts, bratwursts and breakfast sausages. You'll visit the site, stock your cart with enough to reassemble a pig on a spit and go to town. Your order will ship the Wednesday after you make it, and arrive two days later, packed lovingly in Styrofoam and frozen gel packs.
The Cadillac of pork delivery.